Despite being a recently created sport (born in Mexico in 1969), padel is one of the most practised sports in Spain (Courel-Ibáñez et al., 2017), and is also experiencing a significant expansion worldwide, reflected in the exponential increase in the number of players and facilities.
This sport now has Federations in more than 40 countries (International Padel Federation, 2020), consolidating its professionalisation through the World Padel Tour International Circuit.
This development has awakened the interest of researchers, leading to an increase in scientific publications. Therefore, since the first scientific paper on padel was published in 2008 (De Hoyo et al., 2008), the number of studies, research books or doctoral theses related to this sport has grown every year.
This type of scientific publication has enabled a greater and more rigorous knowledge of padel. However, access to this information is not easy, as it is published in paid journals, it is usually written in English and developed with a language and terminology that is too scientific, which makes it difficult to read for amateurs, players, coaches or physical trainers.
Due to these limitations, the new PadelMBA Science section is born, with the main goal of providing scientific information, data and statistics on padel competition to players, coaches, physical trainers and other padel fans.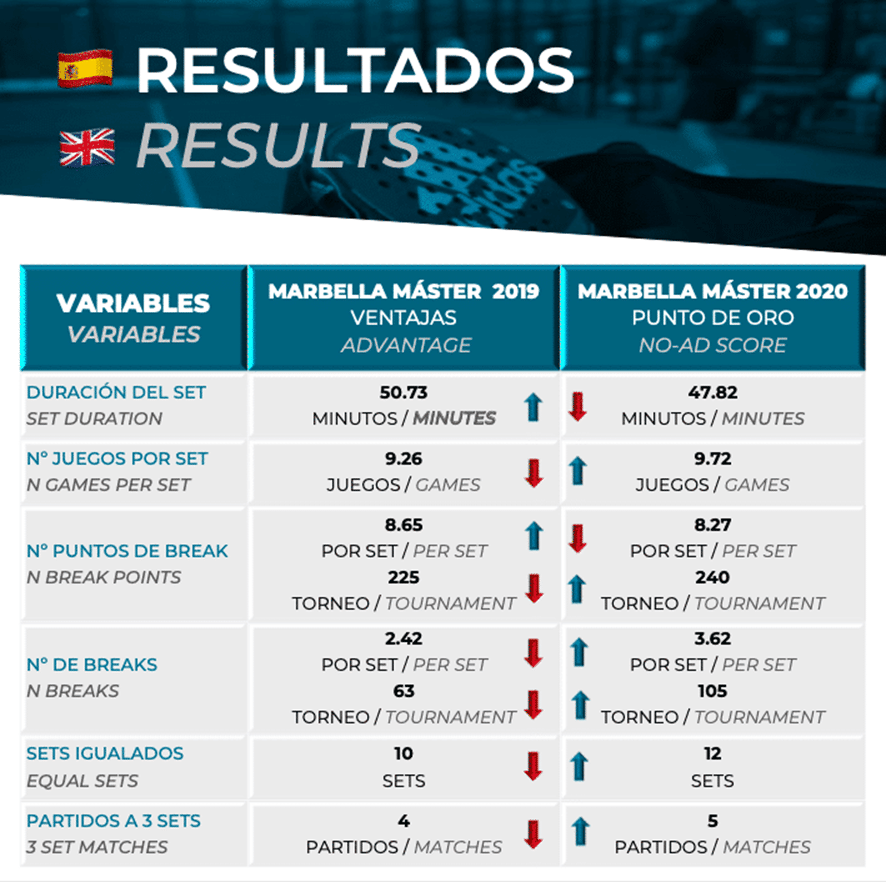 Among the first contributions of this new section, different infographics and articles with contents related to padel research will be developed. This section is developed by the professors of the University of Murcia, Bernardino J. Sánchez-Alcaraz (nino.sanchez.alcaraz.padel) and the University of Extremadura, Diego Muñoz Marín (@diegomunozsci).
In this way, the aim is to integrate scientific knowledge specifically for each context and area of padel (professional padel, amateur padel, padel for children, women's padel, adapted padel, etc.) with a practical and direct application to training, using a clear and accessible language for anyone interested in this sport.
Different contents will be developed in areas related to the analysis of sports performance (time structure, distribution, trajectories and efficiency of the different strokes, areas of play on the court, players' movements, etc.), medicine and physiology (sports injuries, physical condition parameters, anthropometric variables), teaching methodology (training systems, organisation of sessions) and psychology (motivation, anxiety, concentration/attention, etc.).
Among the main advantages of research, scientific analysis and statistics and competition data in padel are (Courel-Ibáñez et al., 2014):
Evaluate the technical-tactical behaviour of players in real game environments (competition), from the extraction of data related to patterns of behaviour and sequences of strokes.
Know the demands of competition in order to design exercises and training sessions adapted to the specific loads and patterns of the sport of padel.
Detect and define the performance indicators or actions that allow success in a padel point or match (areas of play, direction of strokes, etc.) depending on different situational variables (duration of the point, side of play, score of the match, laterality or level of the opponent).
To provide information about the physical performance of the player through specific physical evaluations of the demands of padel (levels of strength, speed, acceleration, changes of direction, jumps, turns, etc.) and to establish scales to be able to compare our evaluations with those of high-level athletes.
Establish possible differences between professional padel (male and female), padel in training categories, adapted padel, amateur padel, etc.
Finally, as a summary and as an introduction to the rest of the articles and infographics, scientific studies on padel (Sánchez-Alcaraz et al., 2018) have defined this sport as an intervalic activity that alternates moderate-high intensity efforts (average point durations between 8-15 seconds), with average resting periods (about 20 seconds).
During the periods of the game, the players make quick, short movements in different directions, hitting an average of 10 shots per point, among which volleys, "bandejas" and smashes, direct groundstrokes (forehand and backhand) and serves predominate.
However, there are important differences between men's and women's padel, players on the forehand and backhand side, the efficiency of the different strokes depending on the hitting area and trajectories, etc. In the following articles we will be commenting in more detail on each of these data and studies.
REFERENCES:
Courel-Ibáñez, J., Cañas, J., Sánchez-Alcaraz, B. J., y Alarcón, R. (2014). Investigación en Pádel (Volumen I). Murcia: Diego Marín.
Courel-Ibáñez, J., Sánchez-Alcaraz, B. J., García, S., y Echegaray, M. (2017). Evolución del pádel en España en función del género y edad de los practicantes. Cultura, Ciencia y Deporte, 34, 39-46.
Federación Internacional de Pádel. (2020). Lista de paises asociados a la Federación Internacional de Pádel (FIP). Recuperado el 20 de Marzo de 2021, de https://www.padelfip.com/federations/.
Sánchez-Alcaraz, B.J., Courel-Ibáñez, J., y Cañas, J. (2018). Estructura temporal, movimientos en pista y acciones de juego en pádel: Revisión sistemática. Retos, 33, 308-312.
De Hoyo, M., Sañudo, B., y Carrasco, L. (2007). Demandas fisiológicas de la competición en pádel. Revista Internacional de Ciencias del Deporte, 8, 43-58.